PATENT LICENSE OR SALE SUMMARY PROSPECTUS
Product Tracking and Authentication
ARK Ideaz, Inc. Patents
Opportunity
We are entertaining offers for license or sale of a patent portfolio developed by ARK Ideaz, Inc., including US Patent 9,070,131, US Patent 9,870,496, US Patent 10,410,024, and pending US application 16/106,206, all entitled "Authentication System and Methods". These patents offer a fast and more reliable solution for brand protection and product identification by combining product identity markers on objects or packaging into a unique identification for use in product authentication and tracking. The patented technology creates unique "fingerprints" for each product from combinations of product identity markers, such as bar codes, RFID tags, or detectable features of the object. The patented technology compares these fingerprints to fingerprints stored in cloud-based authentication libraries to verify the authenticity of the product. The patented technology also records object history for tracking and authentication purposes. These patents claim priority back to June 14, 2011, giving them an early priority date for the technology that is covered.
Problem Addressed
Each year, US companies suffer hundreds of billions of dollars in losses due to counterfeit goods. These counterfeit goods, in most every sector, from fashion, to chemicals, consumer goods, personal care, food, toys, auto and aircraft parts, electronics, and pharmaceuticals damage sales and revenues, brand equity, consumer confidence, US industry, the US economy, jobs, and public health and safety. And the problem is only growing. The scale and effects of counterfeit goods has compelled action by both industry and the government. An increasing number of manufacturers of luxury goods and even some large retailers, such as Amazon, have either implemented or are looking at implementing solutions for detecting counterfeit goods. Additionally, in pharmaceuticals, the Drug Supply Chain Security Act (Title II of the Drug Quality and Security Act) and related regulations require adoption of technology for electronic tracing of pharmaceuticals at the package level within the next few years. With increasing focus on counterfeit goods across all economic sectors, we are entering a time of unprecedented opportunity for service providers who are able to provide more reliable technological solutions to verifying product authenticity and to ensuring supply chain integrity. These are precisely the areas that are addressed by the ARK Ideaz patents
Summary 
The ARK Ideaz portfolio is directed to systems and methods for performing, managing, and analyzing pre-sale, point-of-sale, and post-sale product tracking and product authentication. The system includes sensor-based readers ("product identity marker readers" referred to as "Immutable Token Readers" (ITRs)) that read and combine product identity markers on objects or on their packaging into a unique identification for the product tantamount to a "fingerprint" ("immutable token"). The system also includes one or more networked libraries that store, disseminate, index, and manage the fingerprints for authentic items and for known counterfeit items. These libraries can either be general worldwide libraries ("Worldwide Authentic Real Thing (ART) and Artifact libraries" (WAALs)), providing broad access and scalability to a cloud-based repository for authentication information, or libraries managed by a public or private entity ("Public and Private Libraries" (PPLs)), which manage authentication information on the products that the entity offers or produces. Libraries may redirect authentication queries to other networked libraries, and can selectively share authentication information. When the product identity markers on an object are read and combined into a unique identification for the product, this "fingerprint" may be checked against product "fingerprint" data stored in one or more of the libraries to determine whether the object is authentic. In addition to checking authenticity, object history for individual objects may be stored in and shared between the libraries, and used to track objects through production or through a supply chain. This object history information can also be used as part of the authentication process.
Below is an overview of the system of the Ark Patents.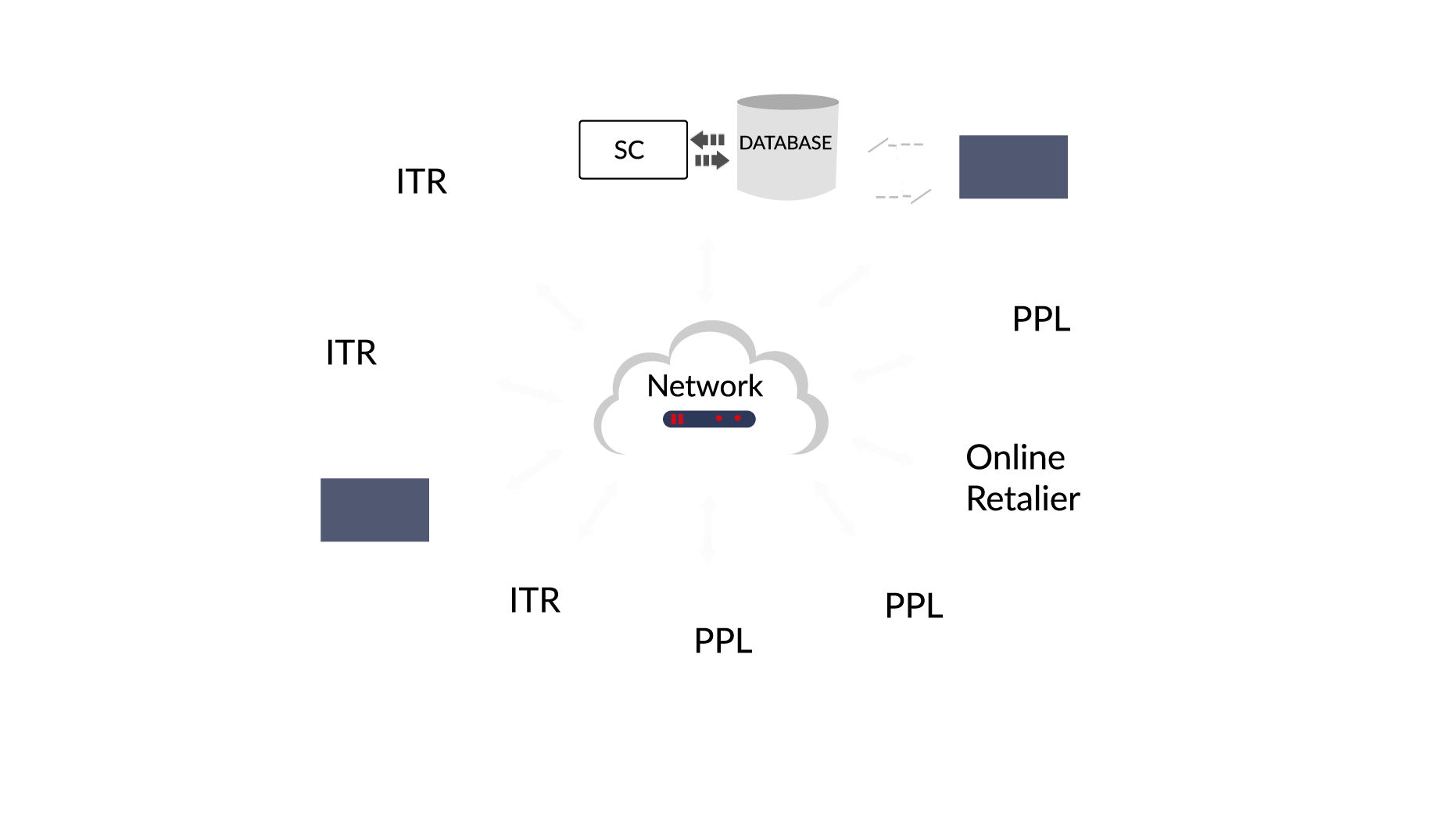 A) The '131 Patent
The '131 Patent, which was granted on June 30, 2015, is directed to the reader that reads the product identity markers on an object and notifies a user whether an object is authentic or not. The patent covers a system and method in which a product identity marker reader ("immutable token reader") uses at least one of multiple sensors ("at least a subset of multiple sensors") to read at least one product identity marker from an object. Weights are then applied to the data acquired by the sensors, and an authentication value (an "immutable token" or product "fingerprint") is calculated based on the weighted data. This authentication value is then sent as part of an authentication request to an authentication entity (i.e., a library such as a WAAL or PPL). Based on the response received back from the authentication entity, the reader may produce a notification indicating whether the object is authentic, or a request for additional data acquisition. Additionally, the '131 patent includes claims directed to the authentication entity comparing the authentication value to a value stored by the authentication entity to determine whether the object is authentic, and to performing this comparison on a second authentication entity that receives the authentication value from the authentication entity. In this way, the '131 patent covers use of a hierarchy of networked libraries, as well as the device that uses sensors to read the indelible markers.
B) The '496 Patent
The '496 patent, which was granted on January 16, 2018, is also directed to the reader, along with the insight that the number of sensors used to acquire data may be useful in computing an authentication value – i.e., use of more sensors may provide a more reliable indicator of authenticity. The '496 patent claims a system similar to that of the '131 patent, in which a reader having multiple sensors acquires data on at least one characteristic of an object from at least one sensor. An authentication value is calculated based on the data acquired by the one or more sensors and on the number of sensors used to acquire the data. As in the '131 patent, the reader sends an authentication request to an authentication entity. The '496 patent also includes claims directed to calculating the authentication value using the types of the sensors in addition to the number of sensors, and to applying weights to the sensor values in addition to using the number of sensors. The claims also cover receiving a response from the authentication entity to determine whether the object is authentic and generating a notification of whether the object is authentic. A notification requesting further data acquisition also may be generated, or further data acquisition may be performed as a result of user input. The '496 patent further includes claims making it clear that the object may be a pharmaceutical, a pharmaceutical container, a piece of apparel, a consumer product, or automotive parts.
C) The '024 Patent
The '024 patent, granted on September 10, 2019, is broadly directed to the network of entities that make up the overall cloud-based system. Claims of the '024 patent cover a computing device where data on at least two object attributes is received over a communication medium (e.g., a network). The received data are then used, including application of weights to the data, to compute an authentication value. A signal identifying whether the object is authentic, based at least in part on the authentication value, is then sent over the communication medium. This computing device could, for example, be an authentication library that calculates the authentication value based on data received from a device that includes a sensor. Additional claims are specifically directed to library computing devices that communicate with the computing device, and to databases that are used by these library computing devices. These library computing device claims could represent either a WAAL or a PPL. The claims indicate that the weights may be based on a likelihood that the object attribute to which the weight is applied could be forged or counterfeited (e.g., with
a lower weight applied to attributes that could be easily forged). The claims also make clear that at least one of the object characteristics may be based on user input (using, e.g., a touchscreen or keys), and that user-readable characteristics (i.e., related to the appearance of an object) may be given lower weights than primarily machine-readable attributes. Claims are also included to clarify that a single sensor reading may produce data on two or more object characteristics.
D) The '206 Application
The '206 application is directed to a system that updates the library databases based on the data received and on the likelihood of authenticity. The data that is kept in the library databases includes data on the history of an object, and may include data on its location, and/or supply chain information on the object. All or part of this history, location, and/or supply chain data may be shared or transferred between libraries and used in the authentication, tracking and tracing of products.
Product and Services Impacted
Any company or service in the fields of product anti-counterfeiting, product authentication or verification, or product tracking and tracing should investigate the applicability of the portfolio and could benefit from licensing or purchasing the ARK Ideaz Patents.
Financial
ARK Ideaz is willing to entertain offers to purchase the entire portfolio, or to license the entire portfolio or individual patents in the portfolio on either a non-exclusive or an exclusive basis. If the patents are sold, they must all be sold to the same entity.
Bid Timing
Our client is planning to close a preferred window for licensing the Ark Patents in Q1 of 2020. Bids received and closed by close of that window will be reviewed preferentially.
Communication of Potential Interest
ARK Ideaz has retained The Juhasz Law Firm, P.C. to seek interested parties who could benefit from the license or sale of the ARK Ideaz portfolio. Paul R. Juhasz; Managing Shareholder, is managing the offering.
Any communication or inquiries relating to this Patent Opportunity or the contemplated transaction should be directed to:
Paul R. Juhasz
The Juhasz Law Firm, P.C. 10777 Westheimer, Ste. 1100
Phone: 713-263-9643, Cell: 631-525-2710
pjuhasz@patenthorizon.com